MATT LEWIS
__________
While there are a few very good Elvis entertainers in the business, only one has been named "The Best Elvis in Vegas" by USA TODAY. Matt Lewis began his entertainment career as an Elvis Tribute Artist at the age of twelve. By his twenty-first birthday, he was headlining with the world-famous "Legends In Concert" show and has been with them for over fourteen years. Matt is currently appearing in "Legends in Concert" at The Tropicana Hotel on the Las Vegas strip. Matt has also appeared on the Jay Leno show, been featured on several pages of Entertainment Weekly and starred in a major feature film entitled "Tears Of A King".
Matt has also entertained audiences all around the world, in Singapore, Germany, Australia, Poland, Canada, Japan, Monaco, China, and almost every major city in the United States. Numerous publications have praised and spotlighted Matt's talents, from the cover of Las Vegas' What's On, to the national magazine Entertainment Weekly.
There is no better talent than Matt Lewis to pay tribute to the great legacy of Elvis Presley.
"I think when you say 'Elvis,' fans get a picture of him in their minds that's unique to them. I try to give the audience a chance to see their favorite version of him."  Matt Lewis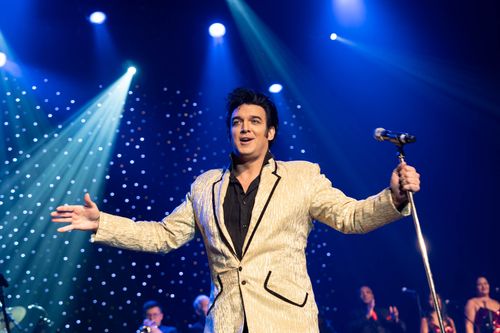 "No better Elvis. Matt Lewis is a stunning performer who makes the crowd go wild."
- USA Today
SAMPLE VIDEOS
___________